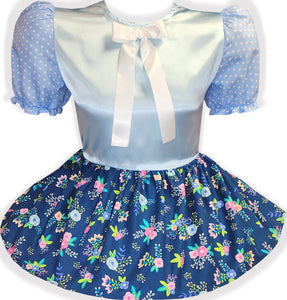 XL Ready to Wear Blue Polka Dots Flowers Bow Adult Sissy Dress by Leanne's
Regular price $64.99 Sale
SIZE XL

Adult Little Girl Sissy Dress

Handmade in the USA by Leanne's Pretty Dresses

Dress is Complete and Ready to Ship. Please check the measurements below to ensure this dress will fit you.
 
Dress Details:
*Made with a variety of blue polyester cotton fabrics
*Trimmed with a white bow
*Elasticized sleeves
*Closes in the back with a zipper for easy dressing
Mini Hoop Skirts are NOW AVAILABLE for purchase in our store.
Dress Size/Measurements:
Please compare your body measurements to the measurements below to determine whether or not this dress will fit you. It is recommended to allow an extra inch or two to your personal measurements to allow for a comfortable fit. Remember, you can always wear a dress that is too big but you cannot wear one that is too small. Measure carefully, no returns on mis-fit items.
 
Dress Size:
Size XL
Bust/Chest (Around fullest part under the arms) = 44.5"
Waist (Around waist at the end of the bodice) = 39"
Skirt Length (Waist to skirt length including trim) = 12"
Back Shoulder to Waist (Starting at the top in the middle of the shoulder, down to the waist) =16 "
Sleeve Length (Armpit to edge of sleeve including trims) = 3.5"
Dress is ready to ship - Will be shipped within 3 days